Dear amateurs of vintage model cars and antique toys
Regarding my friend's collection, see below, I recently put his cars back on Ricardo (Swiss online platform), but in the future I will make offers especially here. It's unbelievable what has been tinkered with on this platform the last few years. In the sense of "Ricardo becomes new", but in fact everything is getting worse. I could give you x examples. Already the product search (there is no more reliable text search!) or on Sundays and there especially in the evening there can betimeouts (i.e. the platform is 100% down), at Ricardo nobody notices anything for almost an hour. Cats are the most stressed, they serve as decoration for error messages. Ricardo doesn't refund anything, but offers a "Platinum Boost" for 100 francs, which is meant to advertise the offers, even if you sell items for 30 francs on average … (…) my goodness. Don't worry – "everything becomes new".
I'm going to publish articles with car groups. This means model groups, I can get offers for one or more cars, I can give price ideas, at the end we'll see if and where we agree, like on a toyfair, always my favourite selling instrument. I will propose some groups of models as a set (price for all) for the moment and I will only dismantle them later if necessary.
As far as Ricardo is concerned, I just have to say that prices, especially for top-quality models, do not reflect the market. Not when a perfect Peugeot 504 convertible with a Dinky Toys box sells for 61 francs. 🙂 On the other hand, above-average prices can sometimes be achieved for models in playful condition.
In general, prices have gone down, but never as much as many people think. In Switzerland, the online market for diecast models is small and unrepresentative. I know this because I know the international market very well and because I also sell abroad. I know the prices on toyfairs very well. I am as cooperative as possible when it comes to prices.
Check the latest articles, the archive, the categories or use the search function. Contact address info@toyman.ch – 17.05.2020
Fed up with auctions at Ricardo, quit at least temporarily, not primarily because of the results. I'll have something to say about that. Make me offers for the unsold items. Click on the links below. 10.02.2020
Follow my auctions, always sunday eveningS. CLICK PICTURE.
f you are interested in a car on the website, check whether it is lited as auction. 08.12.2019
_____________________________________
Pictures and prices of the announced collection for sale are now available. 12.11.2019 / updated 15.11.2019
1 Dinky Toys France boxed
2 Dinky Toys France unboxed
3 Dinky Toys GB boxed
4 Dinky Toys GB unboxed
5 Corgi Toys boxed
6 Corgi Toys unboxed
7 Norev / 8 Micro Norev France – vintage
9 Clé France – vintage 1:48
10 Solido France
11 Joustra Sanchis Rico Gama
12 Mercury
13 Mercury – Ferrari
14 Politoys / Mebetoys
15 Tekno
_________________________________
Dear friends of scaled car dreams
26.10.2019
I'm addressing also the female friends of diecast, because they exist! I started this website a year and a half ago. Actually, I still prefer to sell my models on toyfairs and talk to people, share the passion. Nevertheless, today you can hardly ignore the Internet, especially if you want to proceed. The whole thing is fun for me as an archive, too, if the magic is over, you still have something to look at and enjoy. Nevertheless, I haven't done anything here for a year, other than to mark a car as sold.
But now a friend has reactivated me. I will be selling most of his collection on his behalf in the near future, focus on Renault 4 – even the Pope drives one! – Dinky Toys, Mercury, Solido, Norev and Joustra. I will also place models on ricardo.ch and at likely tutti.ch. Here is the whole article.
_________________________________
New Blog: Plastic – the antique of tomorrow and a rocket from the 60s

_________________________________
toyfairs coming up
Retrotechnica, Retrotoys Forum Fribourg: 20.10. / 21.10.2018
Spielzeugbörse Bern, Bea Expo: 10.11. / 11.11, 2018 come and buy .. see 🙂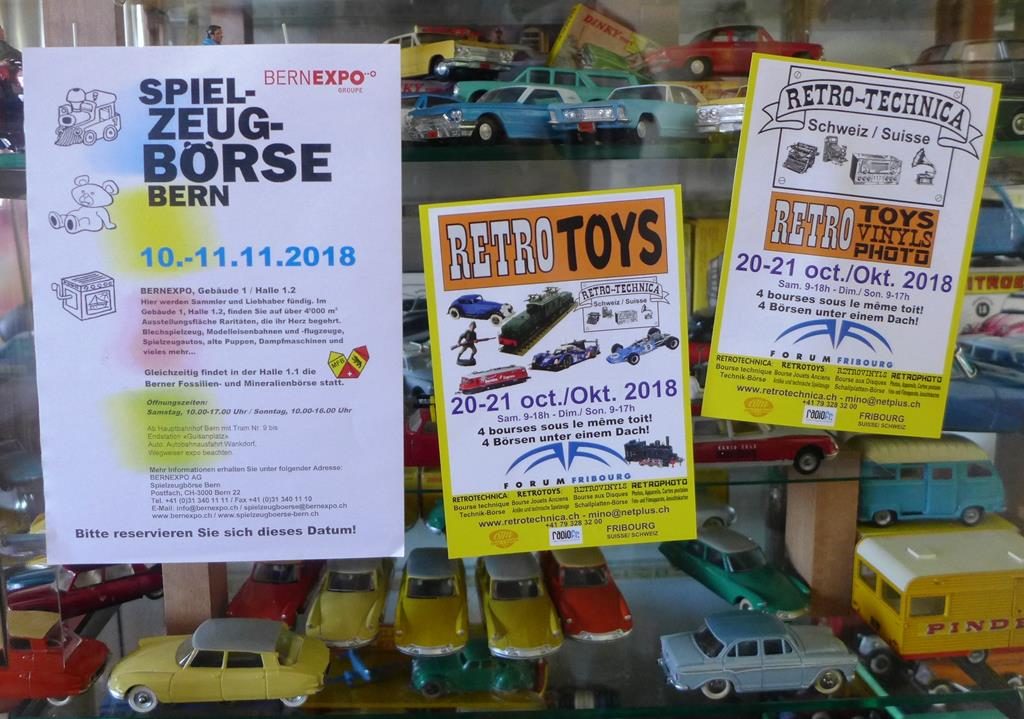 _________________________________
modèles de Dinky Toys France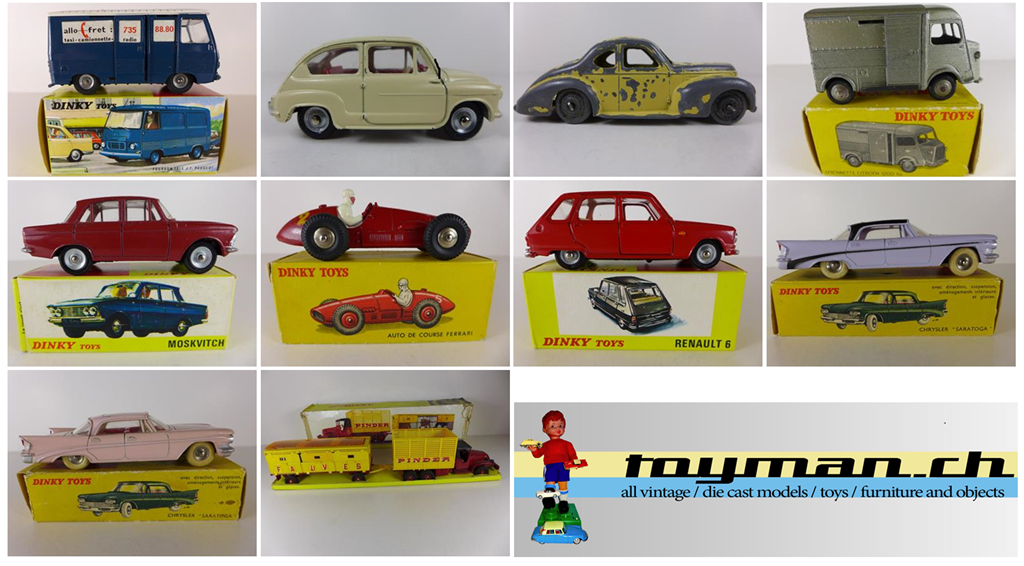 _________________________________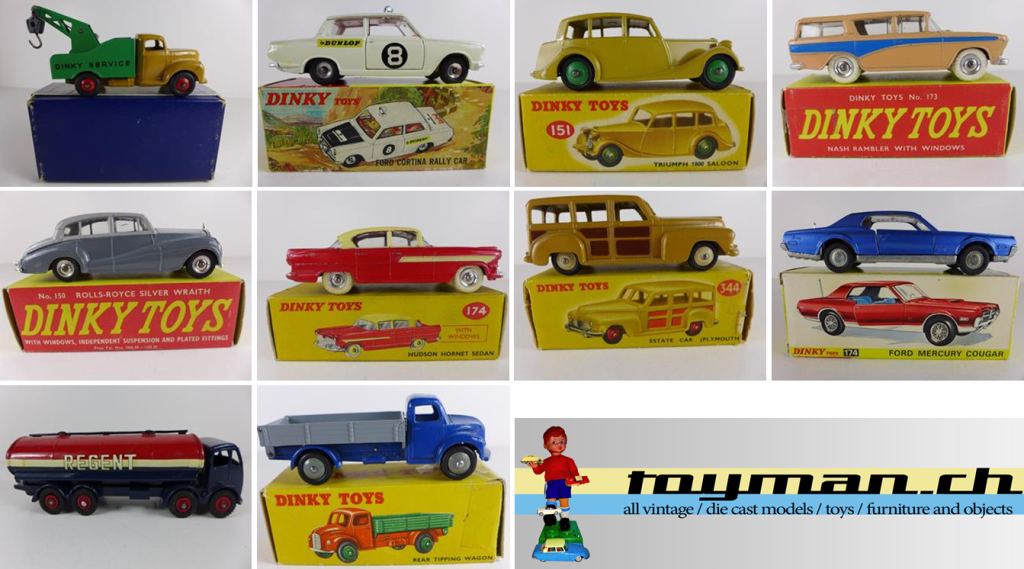 Vom Mixer bis zur Glacemaschine, beides Made in Switzerland. Weiter Ovomaltine und Melitta. Plastik ist geil! – 15.06.2018
_________________________________
La Déesse von Citroen und schöne Amerikanerinnen

Einige aus der 2. und 3.Garde meiner Citroen DS sowie der schönen Amerikanerinnen von DTF (Dinky Toys France). Es hat auch sehr schöne Exemplare dabei, für die Buicks sind auch noch zwei Schachteln vorhanden. Auf die Bilder klicken.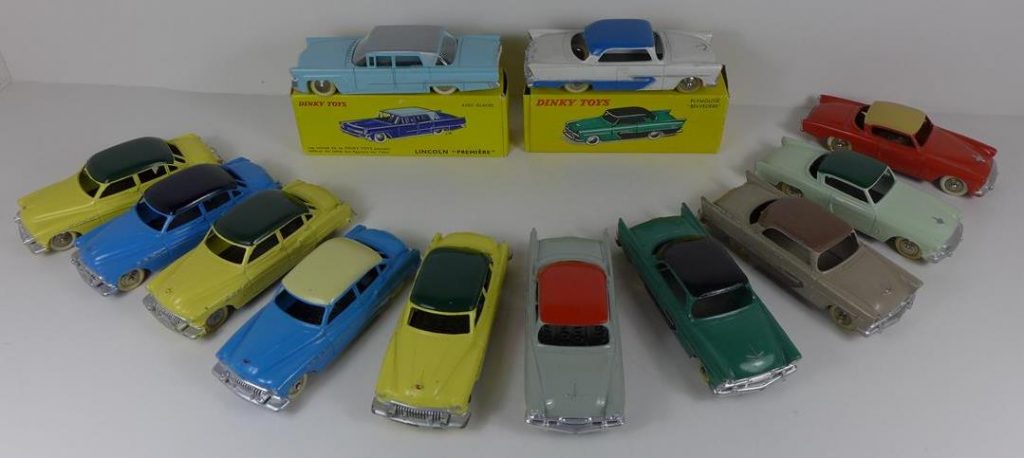 "Les belles Américaines" ist ein Begriff, der im Zusammenhang mit diesen Autos amerikanischer Provenienz bereits seit Jahrzehnten im Gebrauch ist. – 09.05.2018
_________________________________
Plastikmöbel und nur optisch ruinierte Spielzeugautos

Ich habe ein paar Gartenmöbel gelistet, hier Liegestühle der Firma Kurz aus Deutschland, 60er Jahre – hier klicken

Spielen ist das, was ich in meiner Kindheit verpasst habe, stattdessen mit 200 durch die Stube. Wohl deswegen habe ich 30 Jahre später mit dem hier angefangen. In der Kategorie "zum Weiterspielen" – hier klicken – finden sich Spielzeuge, die zum Weitergebrauch geeignet sind und meist auch im Preis tief sind. Weitere folgen demnächst. Diese sind mal bei mir vorbeigekommen. Mein Fokus liegt klar auf hochwertigem Diecast, aber diese haben auch Ihren Platz. Hier geht es sicher nicht um Profit, wenn Sie niemand will, verschenke ich sie an Kinder oder bringe sie in die Brockenstube. Es ist Hommage an diese Spiel-zeuge, dass ich sie hier so anbiete. Schliesslich haben sie genau das getan, wozu sie bestimmt waren, und etliche machen noch ein Mehrfaches an Stunden als die Wegwerfteile von heutzutage. Setzt natürlich Kinder voraus, die mit etwas Altem Vorlieb nehmen oder Gefallen daran finden. – 30.04.2018
_________________________________
Alle Frontseiten Artikel findet man chronologisch unter Home/aktuell links oben. Hier findet man meinen ersten (Text-) Artikel – willkommen auf toyman.ch
Alle Artikel (Text und alle Autos etc.) in chronologischer Reihenfolge sind unter Neue Artikel/alle Artikel gleich untendran im Menu "Home / aktuell" zu finden. WordPress ist toll, aber nicht alles ist einfach zu handhaben.